Greetings Midgardians!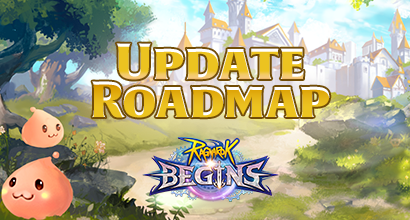 Welcome to the Ragnarok Begins Update Roadmap! We have some exciting events, currently scheduled through June of 2023, to share! Please be mindful that this Roadmap will list notable updates, but not necessarily everything that will be included in each new patch. Thank you!
Ragnarok Begins Update Roadmap:
January 2023
Discover new a battlefield and a new Fieldboss, Amon-ra! Gear up, and challenge Amon-ra and his minions! Try your luck by defeating Amon-ra and get a unique card, as well as costume tickets.
-New battlefield: Ancient Ziggurat
-New FieldBoss: Amon Ra
-New Costume ability and appearance
February 2023
It's the Time of Love, Valentine's Day is here! Gather items and make special Valentine's Day chocolate. ROB's 100th day since Launch will take place during this month!
-Arena Valhalla
-100th Day Celebration
-Valentine's Day Event
March 2023
Try your luck with our St. Partick's Day event! Explore a whole new town with LV90 + monsters (and more!)
-New Area: Einbroch
-Attribute Equipment
-New item smelting system
-St. Patrick's Day Event
April 2023
It's April, so you know what that means. Get ready for an April Fool's Day Event, and don't forget Easter! Be prepared and become the strongest player in ROB. Want to show off your achievements? Invite fellow adventurers to your home and show off your Achievement Trophy!
-Equipment collection
-Achievement Trophy
-April Fool's Event
-Easter Event
May 2023 
Party time! Get ready for a Cinco De Mayo Event! A New Card Combine System. Be the strongest of all players and receive new rewards! Are you up to a challenge? Prepare for a new rare bounty. ROB's 200th day since launch celebration will take place during this month!
-Valhalla Ranking Update
-Rare Bounty Board
-200th Day Celebration
-Cinco de Mayo Event
June 2023
Explore a new area! Make sure you have your Unique Tier Equipment. A new transferring system, a New World Boss. Time to level up and challenge your strength!
-Geffen Area Opened
-World Boss
-Unique Tier Equipment


Thank you all and we'll see you in Midgard!