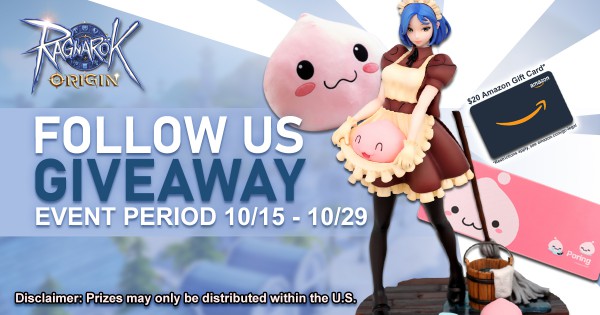 Follow Us Giveaway Event! 
We just can't contain it any longer!  We are so excited for Ragnarok Origin, that the porings are going crazy!  Here's your chance to take one of these little troublemakers home in our Follow Us Facebook Giveaway!  Every week, we will be giving away Ragnarok Merchandise, including one lucky winner who will get one of our super exclusive Kafra Statues, and all you have to do is follow and like us, and comment below.

Winners will be drawn on October 18th, October 21st, October 25th, and October 29th!

Don't forget to pre-register at https://ragnarok-origin.com/.

Disclaimer: Prizes may only be distributed within the U.S. and may take an extended amount of time to distribute.
Event Dates: 
October 15th 8:00 AM PDT – October 29th 12:00 PM PDT
What are the prizes:
1st Place Kafra Maid Figure – 1 winner
2nd Place Poring Mochi Doll – 10 winners
3rd Place Poring Mouse Pad – 20 winners
4th Place $20 Amazon Gift Card – 30 winners
How:
All you need to do is follow Ragnarok Origin on Facebook, like us, and comment on the original Event Post for a chance to win.
When are the drawings:
October 18th Monday at 5:00 PM PDT 4th Place Draw – $20 Amazon Gift Cards
October 21st Thursday 5:00 PM PDT 3rd Place Draw – Poring Mochi Doll
October 25th Monday 5:00 PM PDT 2nd Place Draw – Poring Mouse Pad
October 29th Friday 12:00 PM PDT 1st Place Draw – Kafra Maid Figure
Rules and Disclaimers: 
Winners and Prizes will be chosen randomly.  

If you do not respond within a week of us contacting you, we will pull another winner.

Please be advised that any solicitations from any other entity other than Ragnarok Origin's Official Facebook should be considered suspicious and any

personal information should not be shared.

We will not PM you from any personal accounts or any other account other than Ragnarok Origins Facebook. We will only be contacting you to receive the name and address you would like your prizes sent to.  They are physical items so please keep that in mind.  Some may not fit in standard mailing boxes.

 

    

You may only win once during this event.  So if you won a Mochi Plushie you may not win a second prize. 

Once we have pulled the names, we will private message the winners directly so that we may find out where to send the prizes. 

To note it may take a

significant amount of time

for the prizes to arrive, however, we will get them to you.

Unfortunately, we are only able to distribute to the United States. 

In order to qualify please Follow and Like us on Facebook, and leave a comment.