Feb. 14th Ragnarok M Sakura City, Let's get married!
The update details for our February 13th Maintenance are as following:
1. Max Base level will increase to 105
2. New major city "Sakura City – Amatsu" will be available, and so as the related main quests, collectible quests, an NPC, etc. For those adventurers with level 95 or above, they will be able to travel to Amatsu at Captain Karoo from Izlude Island.
3. Marriage System will be available.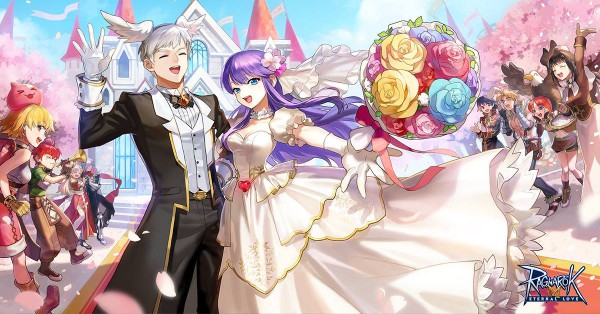 a. Marriage system is available
Tips: After finish the mission from "Miss. Hanako" at Amatsu, you will be available to get married.

b. Wedding Reservation
After this maintenance, players will be able to reserve a wedding date, just go to the new NPC "Miss Happiness" at Prontera Cathedral while holding hands. The wedding reservation fee will be 2 million Zeny. The available wedding reservation date will be the next 14 days from 08:00 to 24:00. Every Wednesday's from12:00 to 16:00 will not be available for reservations.
Tips: For those adventurers who haven't finished "Miss. Hanako" quest, they are able to check the wedding reservation calendars.
Players will receive [Wedding process manual] after reserve a wedding date. All the ceremony details are listed in the manual.
Due to the policy and regulations, the couples will have to be heterosexual. (We will publish gender-change and other personalize items, to fulfill all the customers' needs.)

c. Wedding Process
The steps are as following: Royal Wagon Parade, Friends enter and attend the ceremony, Sacred ritual starts, Happy moment arrives, Realm of romantic honeymoon. After finishing all the steps, you will receive [Marriage Certificate].

d. Marriage skills
Married couples will receive some exclusive skills
[Miss you] use it to teleport your spouse to your current position.
[Welcome Home] teleport to the Honeymoon room
[Party Buff] increase each other's Base and Job Exp receiving by 1%

e. Return the favor
A married couple will be able to accept Return the Favor quest from "Miss. Hanako", it unlocks the exclusive Honeymoon Room for that couple.

f. Divorce system
A married couple will be able to apply divorce to each other at NPC "Miss. Happiness" with agreement.
If an individual wish to force divorce with its spouse, then finish the quest from Amstsu NPC "Lucy" with force divorce.

4. New weekly event – Oracle dungeon
Tips: In the Oracle dungeon, adventurers need to challenge Sigmond's 60 cards. Each card represents certain monsters, critical environments, or mysterious items. Finish the instance after defeating all the monsters.
When all the party members are level 60 or above, the party leader can talk to the NPC "Fantasy Circus" at Prontera Square to enter the instance.