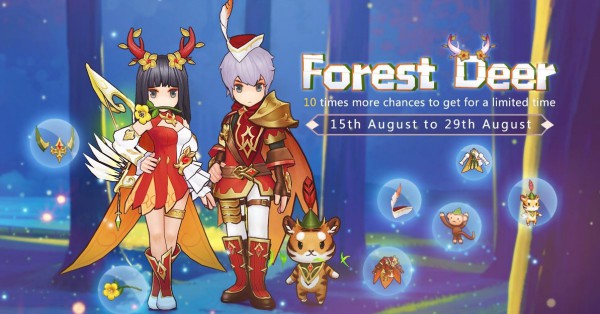 Ragnarok M Aug. Limited Edition Costume – Forest Deer
Kasha had saved Sho from the tiger's attack. In doing so, she also left him forever.
Kasha's soul now drifted aimlessly in the forest. This continued until the emergence of the God of Light, where Kasha found hope and kept praying to see him once again. The God of Light does not understand human feelings. In Kasha, he simply saw a girl who wanted another human being, and that wasn't good enough for him to resurrect her. There is only one way to achieve Kasha's wishes.
"You want to see him again, no matter what you look like it?"
"Yes!"
"But what if he doesn't truly love you?"
"I believe in him, I know he does!"
"What if I do it later? What if it takes a while?"
"I would do whatever it takes to be with him. What else do you want to ask?"
The hunter closed the story book and smiled as he rubbed the head of the little boy.
"Wait! This… Is this a true story?! Is there really a white-tailed deer?!" The little boy squinted at the hunter, becoming more and more confused. The hunter looked up at the antlers hanging on the wall and laughed. "I think… it just might be true~"